Our move is complete and we're getting settled and have successfully navigated a holiday season. My husband is in training for a major career change, which fortunately draws a salary. I'm still searching for a full-time job but am enjoying working part-time at the local Jo-Ann Fabrics and Crafts store. Let's face it - cutting fabric all day and discussing sewing projects is not really work!
My first chore was tackling the redesign of some broken, bare-bones muslin Roman shades from Ikea for the guest room (three of them) and my sewing area (two). The guest room shades were a challenge because I went to Jo-Ann stores in three states before finding enough fabric to finish them, but here they are:
And here is a shot of the sewing room area, where I coordinated the fabric with the valances I'd made ages ago with a yellow and blue floral print:
I've yet to find a local longarm quilter to bring my tops to complete, but I've also resolved to add to the pile of finished tops from started projects. The first one to be completed was the cover quilt from Pat Speth's "Nickel Quilts" - I added a checkerboard border of 1" finished squares, which, I'm proud to say, turned out perfectly.
Finally, with a bit of my paycheck money, I treated myself to
Katja Marek's "The New Hexagon: 52 Blocks to English Paper Piece"
and started playing around with her fun little patterns during Winter Storm Jonas (or whatever it was called). I have a project in mind for these that I haven't shared with ANYONE yet, so stay tuned. These are addictive!
Next up, finishing another top, and then beginning to piece a large Windows Into My World Pattern from Geta Grama (her Etsy shop link for this is
here
, with her own picture below). It's easier than it looks! I have yet to buy the fabric for it so I'm occupying myself with hexies instead.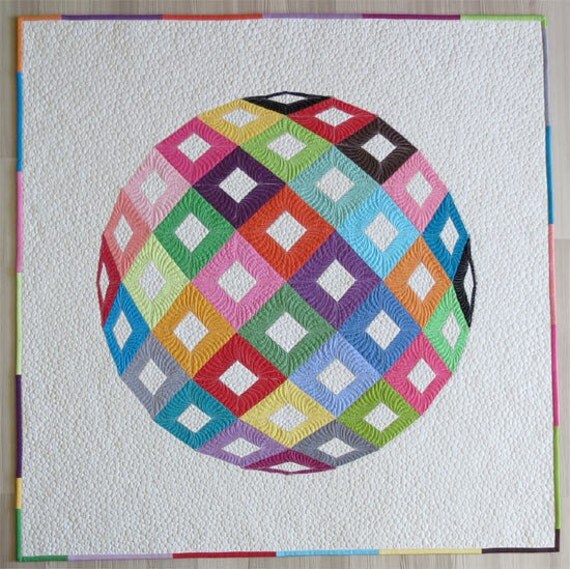 More to come in time. On deck - celebrating National Sewing Day with my new guild, and hopefully hearing whether I'll be fortunate enough to be a block tester for another issue of Quiltmaker's 100 Blocks.